Nina TESCAR
French Artist-Painter and Draughtswoman
Born on 29 April 1968 in FALESTI, MOLDAVIE, Nina is of French nationality.
Graduated in 1987 from the Lycée d'Arts Plastiques C. REPIN in CHISINAU, Moldavia, painting section
Graduated in 1994 from the Institute of Fine Arts in CHISINAU, Moldova, graphic section under the direction of R. CUTUBA
Graduated in 3/2010 from the creative trades school LIGNE et FORMATION « Draftsman-Illustrator » Paris, France
Graduated in 7/2014 from the LIGNE et FORMATION school of creative professions « Interior decorator », Paris, France
She is a member of The National Society for Fine Arts of Paris
She is a member of the famous Taylor Fondation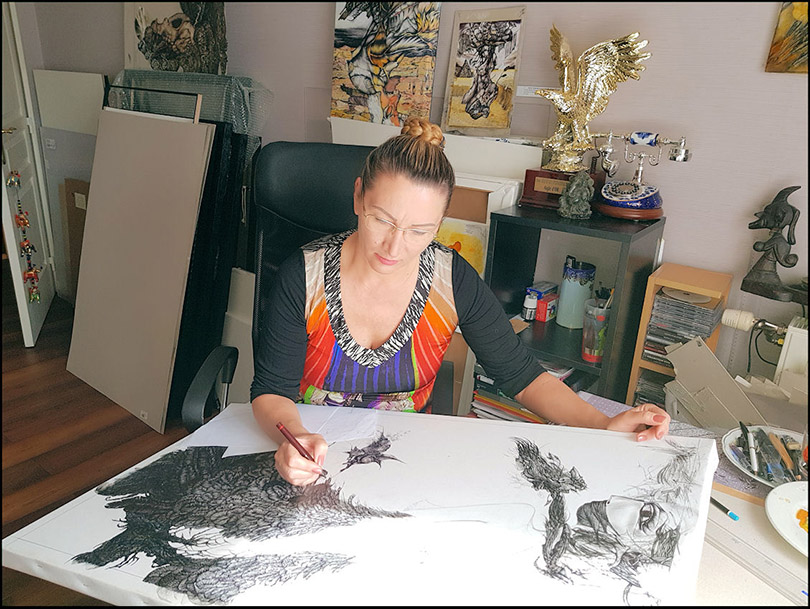 Exhibitions, Training and Miscellaneous Works
Nina Tescar's works have been presented in many prestigious exhibitions in France, America and many countries.
Cited by eminent art experts for her original works, she has won the most prestigious prizes and awards.
In May 2018, Nina Tescar joins the group of artists now exclusively represented worldwide by Fine Arts Elite International Ltd.
She is constantly working to improve her technique, looking for other means of expression and new themes.
1995
Contemporary Art Gallery of CHISINAU
Illustration – children books
1997
EExhibition – contest, the « Grand prix international d'arts plastiques L'AIGLE de NICE », Prize of the city of CANNES
1998
Galerie des Arches in PARIS (75003)
xhibition – contest « Grand prix international d'arts plastiques L'AIGLE de NICE », Prize of the l'AJM MONACO
Group show Seoul, South Korea
1999
Galerie Céline in PARIS (75001)
2000
Exhibition at Paris City Hall
Galerie des Arches in PARIS (75003)
2001 - 2003
Illustration of Moldavian poetry and novel books
2004
Galerie Art et Actualité to PARIS (75007)
Exhibition in ST-PETERSBURG
Exhibition at the Museum of Contemporary Russian Art in NEW-YORK
Galerie Art and News "Russian horsewomen" in Paris
2005
Salon des Artistes Indépendants – Paris
Salon d'Automne – Paris Won the prize of the young artist "Prix du Jeune Artiste"
Salon de la Société Nationale des Beaux-arts – Paris Won the prize of the Special Prize of honor
Salon Violet – Paris
2006
Salon d'Automne – Paris
Galerie Thuiller – Paris
Salon Violet – Paris
Exhibitions France-Japan (organized by CAEA/JIAS
Salon of the Société Nationale des Beaux-Arts – Paris
2007
Galerie ARTMONTE
Salon Art en capital, Artistes Indépendants, Grand Palais – Paris
Biennale Contemporary Art, Florence, Italy
Salon of the Société Nationale des Beaux-Arts – Paris
2008
Solo show – Gallery Visio Dell' Arte Paris 75008
Salon Violet- Paris
Salon de la Société Nationale des Beaux-Arts – Paris
Salon Violet du 9 au 21/06 Paris
Salon de la Société Nationale des Beaux-Arts, Carrousel du Louvre Paris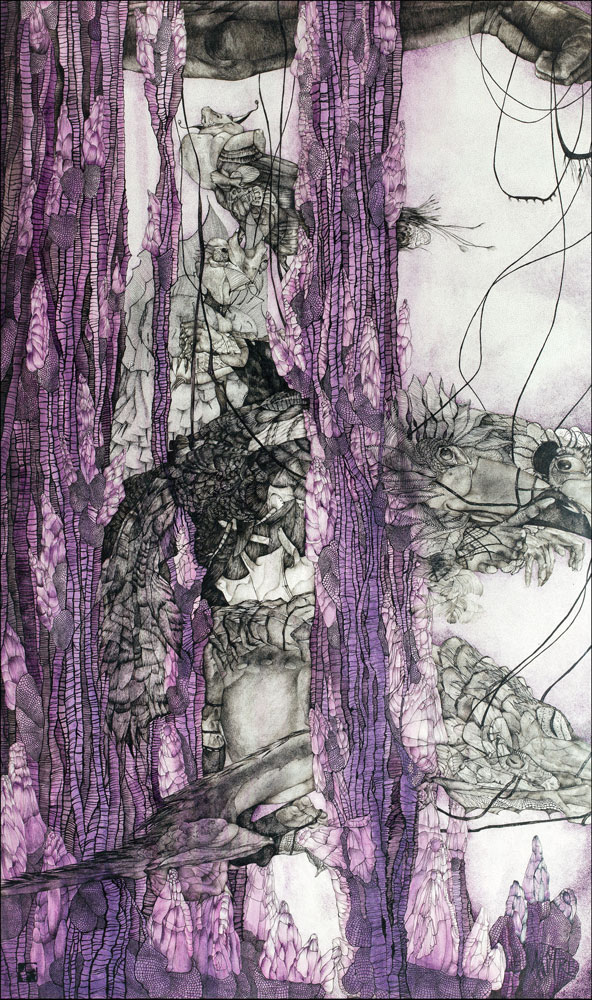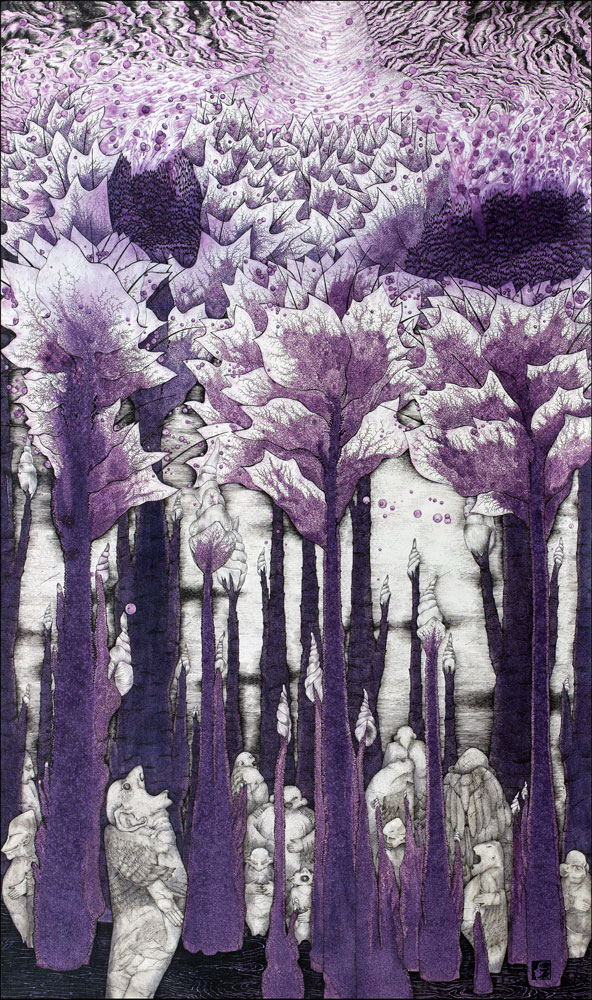 2008 - 2010
Formation professionnelle au sein de l'école des métiers créatifs « Lignes et formations » en tant que Dessinateur-Illustrateur, Diplômé en mars
Salon Violet du 9 au 21/06 – Paris
Salon SNBA 12/2009, Carrousel du Louvre – Paris
2011 - 2014
Formation professionnelle au sein de l'école des métiers créatifs Lignes et formation en tant que Décorateur d'Intérieur Diplômé en juillet
2013
Salon de la Société Nationale des Beaux-Arts
2014
Salon de la Société Nationale des Beaux-Arts Carrousel du Louvre Paris Won the prestigious Prize Puvis de Chavannes
2015
Salon d'art Contemporain Espace Pierre Cardin, Paris Champs-Elysées
Art Fair of Drawings and watercolors, Grand Palais, Paris
Salon de la Société Nationale des Beaux-Arts de Paris, Carrousel du Louvre
2016
Salon international d'Art contemporain, porte de Versailles Paris
Salon international AEAF, Paris Won the first prize for other graphic techniques
Art Expo, New York
Multi Art Events, Monaco
Touring shows in Beijing (China)
Contemporary art fair: Art Shopping , Carousel du Louvre
Contemporary art exhibition in China « Gateway to the Middle Kingdom »
Show at International Art Gallery – Paris
Business Art Fair – Paris
Solo show – International Art Gallery – Paris
Art Basel Miami
Salon of the Société Nationale des Beaux-Arts, Carrousel du Louvre, Paris
2017
STUDIOZERO « UN PEINTRE, UN SCULPTEUR » (one painter, one sculptor) at the Espace Christiane Peugeot, Paris
Salon ART CAPITAL, Drawings and watercolors fair – Grand Palais – Paris
Salon International des Arts, AEAF – European Academy of Arts France
22nd Contemporary Art Contest of the Christian Peugeot XXII ème Concours d'Art Contemporain at Christiane Peugeot Fair
TAYLOR Foundation, prize-winners exhibition Won the prestigious Prize for drawings : Prix de dessin de la Fondation Taylor, Prix Roger MARAGE
52nd Visual Arts Fair of Chatillon – France – ADAC, Salon d'arts Plastiques de Chatillon Won the prize or best work on paper
29th Grand Prix l'Aigle de Nice International Won the prize Gold Eagle of Nice and Prize of the president founder for originality in painting
Salon of the Société Nationale des Beaux-Arts SNBA – Carroussel du Louvre Paris
2018
Salon ART CAPITAL, Le Salon des Independants, Grand Palais – Paris
Salon International des Arts, AEAF – European Academy of Arts France
Art EXPO New York
The International Multi Art Events Paris, Mandel (former mansion of Jacques Homberg and Christian Dior – Paris
2019
ART CAPITAL – Salon des Indépendants, et Salon de Dessin et Peinture à l'Eau – Grand Palais, Paris, Février
Multi Art Gallery Monaco, The International
Multi ART Events Paris, Exposition d'art Contemporain, Septembre
Hôtel particulier Christian DIOR et Jacques Homberg – Paris
Salon des Beaux-Arts, S.N.B.A., Carrousel du Louvre – Paris
2020
ART CAPITAL – Salon de Dessin et Peinture à l'Eau et Salon des Artistes Français – Grand Palais, Paris, Février

Multi ART Events, Art Riviera Tour, Saint-Tropez, Septembre

Exhibition, Quintette d'Artistes, Espace Christiane Peugeot – Paris, October
2021
Salon des Beaux Arts organised by the Société Nationales des Beaux Arts – Espace Froissart Paris 3eme – Guest Jury Prize, Gold Medal for the Drawing section for 0Predestination
Salon d'Automne from Thursday 28 to 31 Oct. 2021 at the Champs Élysées
Exhibition Espace Christiane Peugeot from 15 to 28 Dec – Paris, October
2022
Salon de Dessin et Peinture à l'Eau and Salon des Artistes Français – Grand Palais, Paris, February –

Salon Prize

for Le Rêveur
Salon d'Automne, Grande Halle de La Villette, October
Salon ArtCité 2022 Foisonnement, Fontenay-sous-bois, September/October
Salon des Beaux Arts organised by the Société Nationales des Beaux Arts – Orangerie du Sénat, September/October
2023
ART CAPITAL – Salon de Dessin et Peinture à l'Eau et Salon des Artistes Français – Grand Palais, Paris, Février